PETERBOROUGH & BELLEVILLE

Flooring
PETERBOROUGH & BELLEVILLE

Flooring
Exploring B-Protek Peterborough & Belleville Flooring Team
B-Protek is dedicated to its craft, equipped with the skills required to breathe new life into your garage floor. Located in Peterborough & Belleville, our expert team can efficiently complete the installation in just one day, ensuring minimal disruption to your daily routine.
Your satisfaction stands as our top priority, and that's why we're at your service 7 days a week, ready to address all your inquiries and requests. Recognizing the importance of being responsive and attentive to your specific needs is central to our approach.
The B-Protek Peterborough & Belleville team opens up a wide array of coating options for your garage floor, all tailored to fit your budget and preferences. We're here to provide dedicated assistance and personalized guidance throughout the entire process, from selecting the perfect coating to its flawless installation.
Don't delay any longer; reach out to us today and experience the remarkable transformation of your garage floor into a functional and visually pleasing space that will bring you joy for years to come.
How does it work? 3 easy steps:

Online quote
With our online quote system, you can get a preliminary estimate in less than 2 minutes.

Site visit
We can then visit you to confirm the steps, colours and the date for transforming your garage floor.

Transformation
A B-Protek team will come to your home to transform your concrete floor in 1 day.
Get Ready For Amazing Service & Result
Polyurea with Flakes
Polyurea, often confused with Epoxy, emerges as the preferred option for residential garage flooring. Its excellence extends beyond garages, delivering outstanding performance on balconies, stairs, terraces, and even in basement family rooms.
With its waterproof properties and resistance to temperature fluctuations, polyurea with flakes demands minimal maintenance and stands strong against calcium buildup. Its renowned durability is further supported by our warranty for your garage flooring.
Epoxy Coating
Epoxy flooring stands out as a favored choice due to its exceptional durability, low maintenance demands, and its versatility across a range of applications. Whether it's for residential, commercial, or industrial spaces, epoxy proves itself as a reliable option.
This coating finds common use in diverse settings, including garages, warehouses, hospitals, schools, and offices, among others. Alongside its numerous benefits, when you entrust the installation of your coating floor to the B-Protek team, you can also enjoy the added advantage of a warranty for the coating.
OUTDOOR FLOORING
Is your outdoor concrete showing signs of wear and losing its appeal? Are you tired of spending countless hours pressure washing your patios or porches year after year, only to see them deteriorate quickly? Instead of considering expensive jackhammer solutions, why not explore the expertise offered by the B-Protek Team?
Our coatings offer a cost-effective and eco-friendly solution to safeguard and enhance the visual charm of your concrete structures. We specialize in coatings for stairs, balconies, patios, and pool decks. With our expert guidance, you can effortlessly transform these spaces into beautiful, long-lasting areas that demand minimal upkeep.
Meet the B-Protek Peterborough & Belleville Flooring Team
PURSING EXCELLENCE AT EVERY TURN!
The aspiration to build a business together has always been at the forefront of Shawn and Chrissy's dreams. Combining Shawn's wealth of experience and meticulous approach to the renovation sector with Chrissy's organizational and administrative prowess, they are poised to deliver exceptional outcomes for their clients.
Shawn brings over twelve years of experience as a Military Police officer, which is complemented by nearly two decades of involvement in residential renovations. These dual backgrounds have equipped him with a keen appreciation for the significance of details, ensuring that no aspect is too minor or inconsequential. His unwavering passion and expertise will shine through in the final result of your project.
Now, explore the myriad options we have available for your flooring projects in Peterborough & Belleville!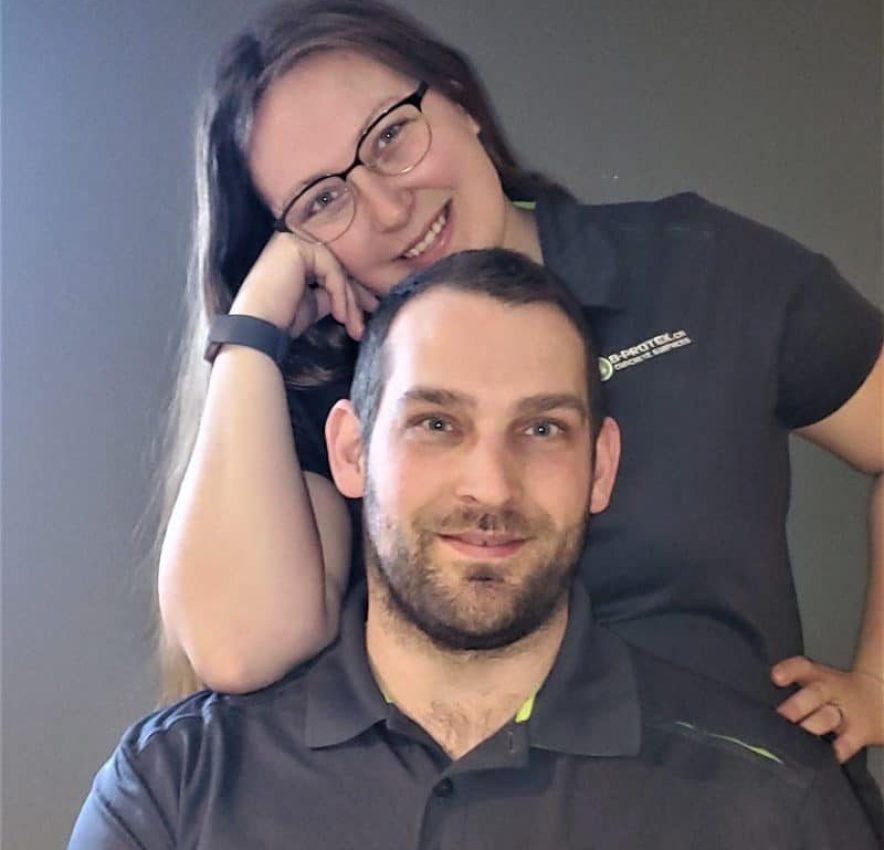 Our commitment is to ensure customer satisfaction remains our top priority. We aim to consistently surpass expectations by delivering high-quality results. Our team of dedicated flooring experts is fully committed to your project.
START PLANNING YOUR PROJECT
Take the first step towards the smart choice for your floor!