KINGSTON-BELLEVILLE

Flooring
Unveil the Excellence of Kingston-Belleville Flooring with B-Protek
At B-Protek, we are dedicated to our craft and equipped with the essential skills to rejuvenate your garage floor. Operating in Kingston-Belleville, our proficient team can complete the installation within a single day, ensuring minimal disruption to your daily routine.
Your satisfaction remains our top priority, which is why we are available 7 days a week to address all your queries and requests. We understand the importance of responsiveness and attentiveness to your specific requirements. With the B-Protek Kingston-Belleville team, you gain access to a diverse range of coatings for your garage floor, tailored to suit your budget and preferences.
Our aim is to assist you and provide personalized guidance throughout the entire process, from selecting the optimal coating to its impeccable installation.
Don't hesitate any longer, get in touch with us today and bear witness to the transformation of your garage floor into a functional and aesthetically pleasing space that will bring you joy for years to come.
How does it work? 3 easy steps:

Online quote
With our online quote system, you can get a preliminary estimate in less than 2 minutes.

Site visit
We can then visit you to confirm the steps, colours and the date for transforming your garage floor.

Transformation
A B-Protek team will come to your home to transform your concrete floor in 1 day.
Get Ready For Amazing Service & Result
Polyurea with Flakes
Polyurea, often confused with Epoxy, takes the lead as the top choice for residential garage flooring. Beyond excelling in garage applications, it shines in performance on balconies, staircases, terraces, and even basement family spaces.
Benefiting from its water-resistant properties and resistance to temperature fluctuations, polyurea with flakes demands minimal maintenance and showcases high resistance to calcium accumulation. Its durability is widely recognized, further fortified by a warranty for your garage flooring.
Epoxy Coating
Epoxy flooring emerges as a popular preference due to its exceptional durability, minimal maintenance requirements, and versatile applications. Whether for residential, commercial, or industrial spaces, epoxy presents a dependable option.
Its widespread usage spans various contexts such as garages, warehouses, medical centers, educational institutions, and office environments. In addition to its numerous advantages, selecting the B-Protek team for your floor coating installation offers the added benefit of a warranty on the coating.
OUTDOOR FLOORING
Is your outdoor concrete appearing worn and unappealing? Are you tired from investing hours in pressure washing your patios or porches every year, only to witness their rapid deterioration shortly after? Instead of opting for costly jackhammer solutions, why not explore the expertise of the B-Protek Team?
Our coatings provide an affordable and eco-conscious solution to safeguard and enhance the visual appeal of your concrete structures. Specializing in coatings for staircases, balconies, patios, and pool decks, our professional guidance empowers you to effortlessly transform these spaces into stunning, long-lasting areas with minimal maintenance.
Meet the B-Protek Kingston-Belleville Flooring Team
EXCELLENCE DRIVES OUR PATH!
Shawn and Chrissy have always dreamed of building a business together. The combination of Shawn's experience and detail in the renovation sector, and Chrissy's organizational and administrative expertise, can ensure an exemplary result in favor of their customers.
Shawn has more than twelve years of experience as Military Police, which is augmented by almost twenty years of experience in residential renovations. These two fields have prepared him to focus on the importance of details and guarantee that no characteristic is too small or unimportant. His unyielding desire to share his passion and skills will be demonstrated on your completed project.
Discover now the many options we can offer you for flooring projects in Kingston-Belleville!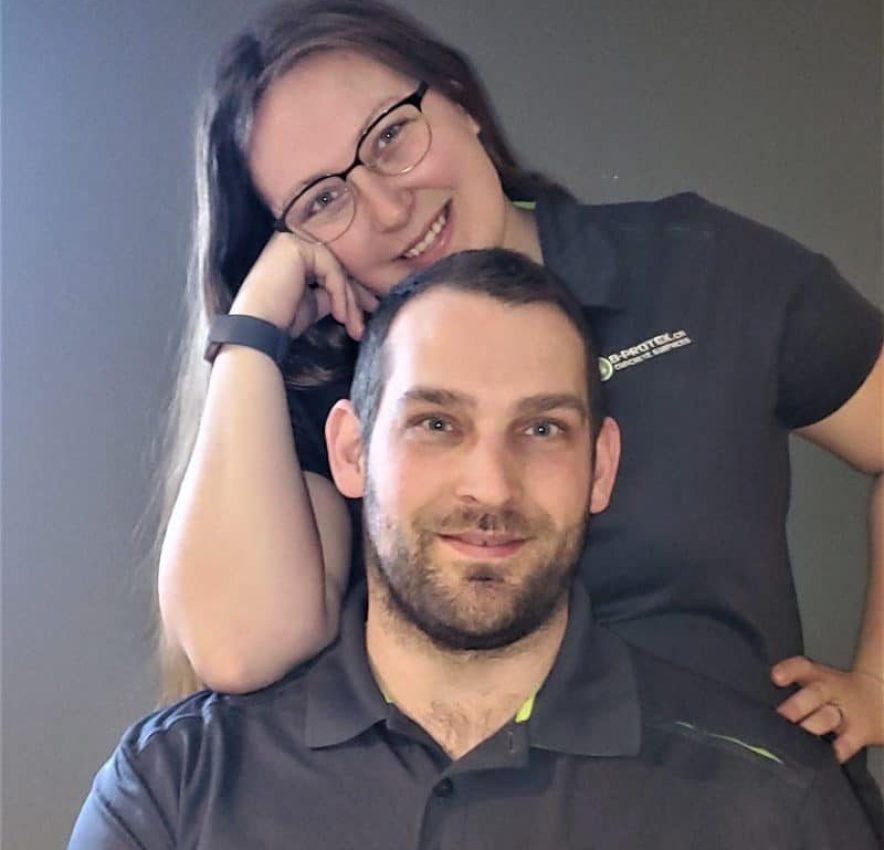 Customer satisfaction drives us. Exceeding expectations with quality. Flooring experts dedicated to your project. Transforming your floors with expertise. Bprotek Kingston-Belleville: Your flooring solution.
START PLANNING YOUR PROJECT
Take the first step towards the smart choice for your floor!