Epoxy Flooring Guide: The Different Types of Epoxy Floor Coating
What is epoxy flooring?
Epoxy flooring is growing in popularity with both residential and commercial owners. Why is that? It's because of how versatile a coating epoxy can be.
There are no limits to the tons of different things you can do with concrete surfaces. There's almost no limitation in terms of designs when it comes to epoxy resin floor coating, there's always a design option (or no design) for the type of flooring you want to coat. Best of all, it's easy to apply.
Epoxy can be applied almost anywhere, however, we do not recommend epoxy in your garage.
Here are the different topics we will cover in this ultimate guide to epoxy flooring:
The Different Types of Epoxy Coatings
Clear Epoxy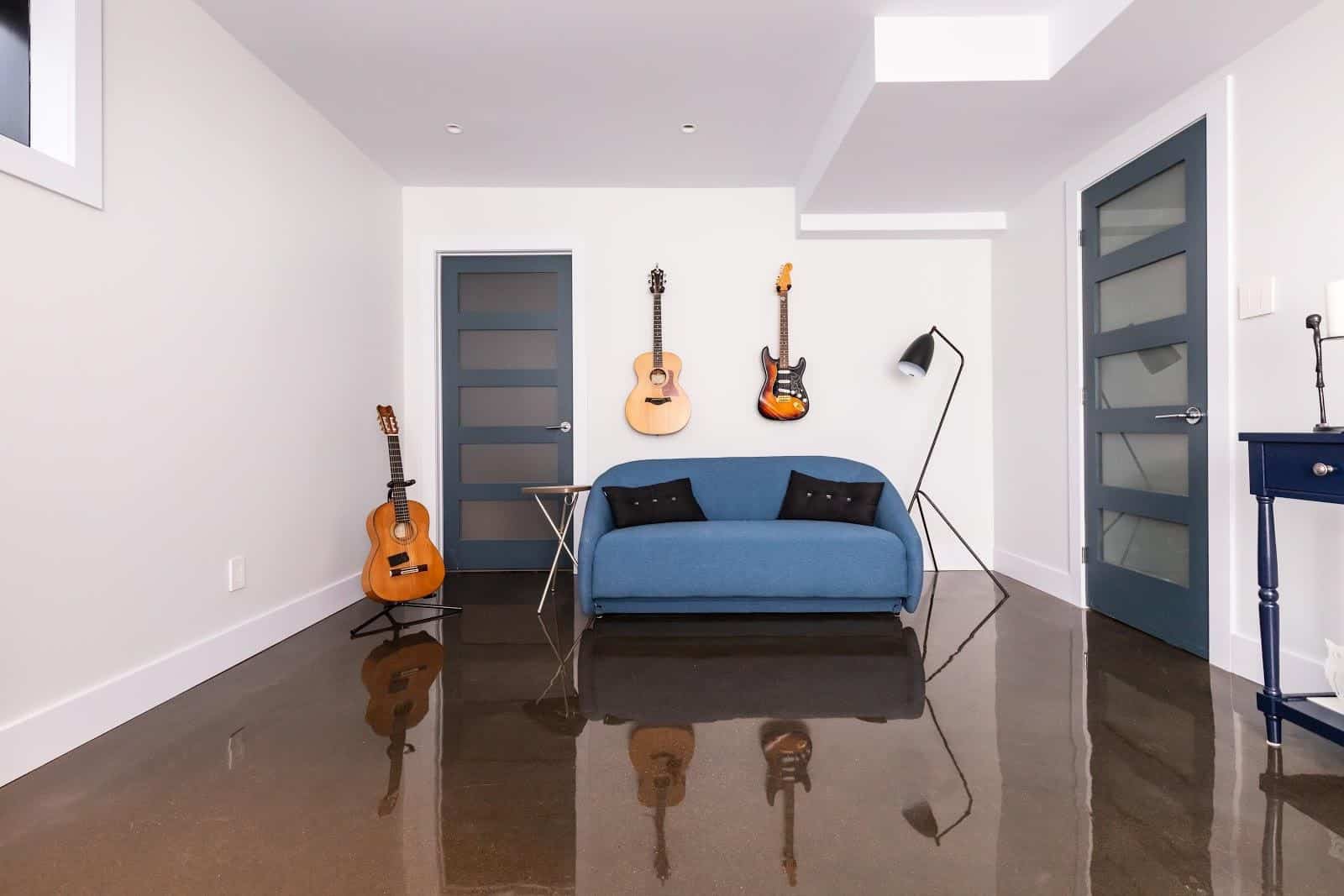 Clear Epoxy is a  type of coating that works well in interior residential or commercial rooms. We highly recommend it for anyone who is looking for a durable floor with a timeless design. Its classic style adapts perfectly to any environment. Furthermore, the clear coating enhances the natural beauty of concrete. Many residential owners choose clear epoxy for their family  spaces. This material is also known for its durability, resistance, and how easy-care it is.
Metallic Epoxy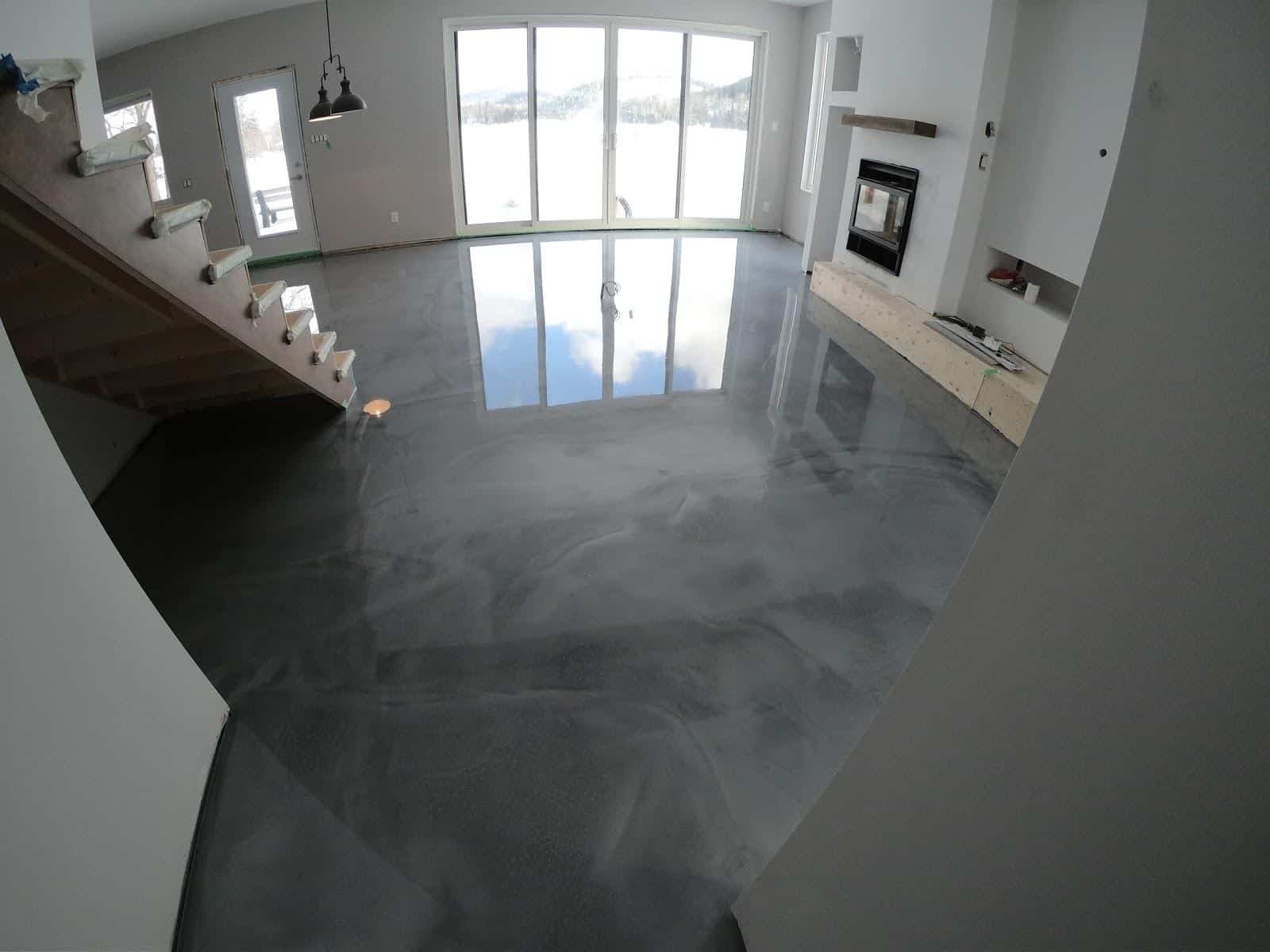 If you're looking for a coating that creates beautiful, unique floors, you should consider metallic Epoxy flooring. This material is known for its modern style, and the finishes go from mat to gloss, depending on your choice. It is also offered in several colors, so you can easily adapt it to any decor. Metallic epoxy is ideal for residential and commercial owners looking for a highly stylish and modern floor.
Like any epoxy flooring, it is durable, resistant, and easy care. We highly recommend epoxy coating for kitchens, retail stores, and boutiques. This coating will make sure to give an instant WOW effect to anyone who sees it.
Solid Epoxy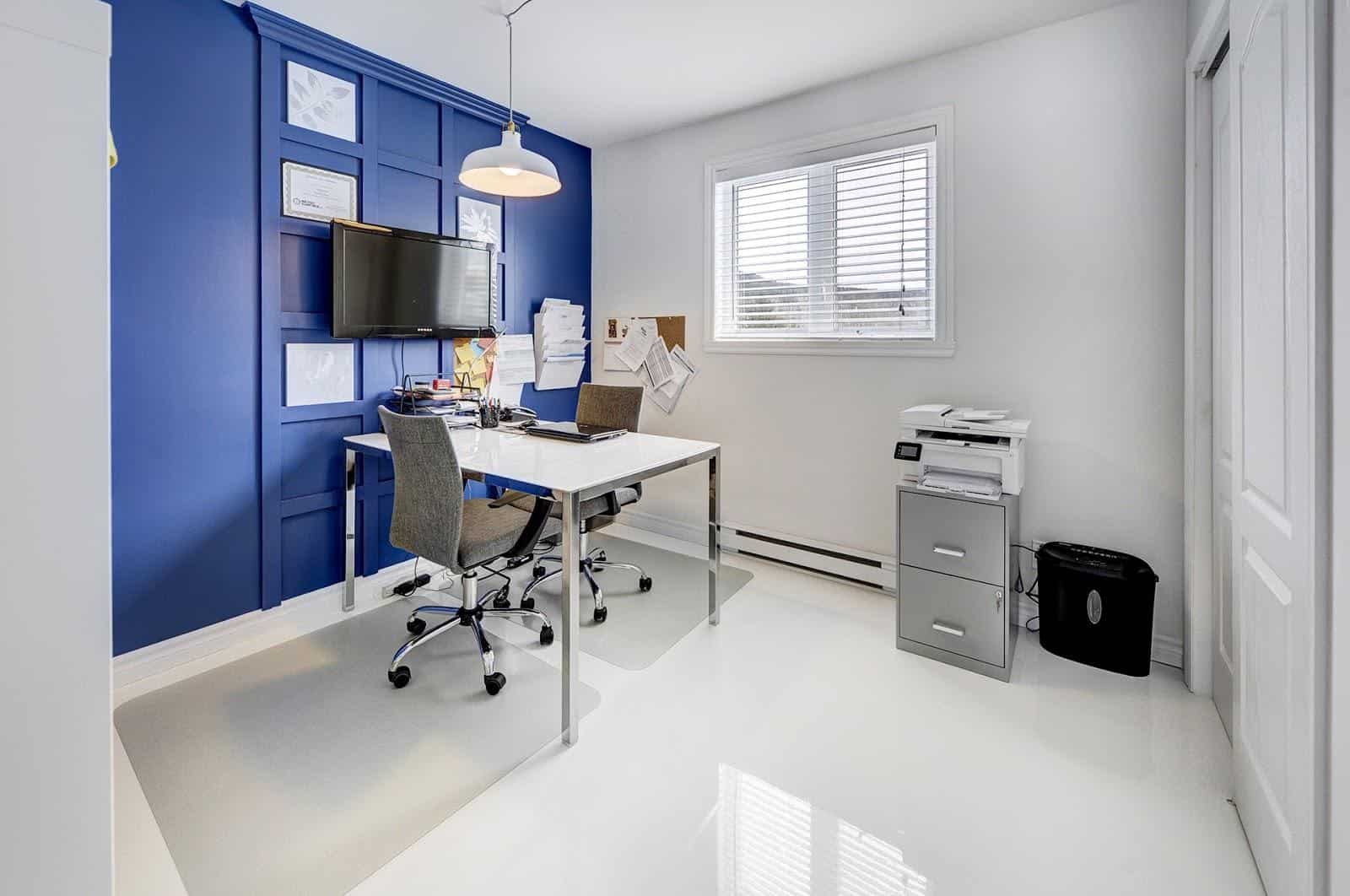 When it comes to versatility, no coating has solid epoxy beat. Epoxy is known for its rock-solid durability, This epoxy resin flooring is offered in a wide variety of colours and can be added almost anywhere. It is also offered in a large selection of styles and finishes, which allows you to customize your floor to your preferences. Our experts highly recommend using epoxy on any floor inside your residence. It is also an excellent choice for retail stores, restaurants, or business owners who want to have a floor that shows their brand's colours.
When is an epoxy floor suitable?
Commercial Epoxy Flooring
It's the same for commercial or industrial flooring spaces, too. You can have a beautiful epoxy flooring in a restaurant or even in a retail store. Since epoxy is durable, resistant, and easy-care, it is an ideal flooring solution practically everywhere. However, it should be noted that not all types of epoxy are appropriate to all floors. There are different types of epoxy floor coatings, different manufacturers of epoxy, and different types of installation of epoxy. Some are more adapted to a space than another.
Epoxy flooring for commercial projects
For your commercial space floor, we offer you our 100% solid colored epoxy coatings. Whether it is for a retail store, a warehouse store, or a big-box store, this solution is ideal. Your customers will be delighted to enter your business with a beautiful floor painted in your colors. This flooring is obtained by also grinding the surface to ensure good adhesion. Afterward, we apply two coats of 100% solid colored epoxy. We can also paint yellow safety lines.
Office Epoxy Floor
It's time to give your office floor a makeover at home or at work? Start the process by determining: your budget, your aesthetic preferences, and the features you are looking for in a floor covering for this type of room. Which floor covering should you choose for your office floor? 100% solid epoxy, clear epoxy, and metallic epoxy offer you three different finishes that allow you a variety of possibilities in terms of customization. However, these coatings have the same functional properties:
The uniform surface requires limited maintenance and is very easy to clean.
Coatings give a glossy finish, and it is possible to cover it with a protective layer to make it anti-slip.
They have a high level of mechanical and chemical resistance.
The waterproof surface provides total protection against water infiltration and limits the development of mold.
Residential Epoxy Flooring
Kitchen Epoxy Floor
Discover the many properties of epoxy that make it an ideal coating to cover your kitchen floor.
Variety of colors – The range of colors offered is almost infinite. You can easily match your floor covering with your furniture, as well as with the color of your kitchen walls and ceiling.
Limited maintenance – You will only need a mop, water and soap to clean your floor. Since the kitchen is one of the busiest rooms in your home and probably one of the highest risk areas for damage, it is essential that it be easy to maintain.
Stain Resistant – Epoxy coating is impervious to most of the food stains you can think of. You can even let children cook without worrying about your floor!
Adhesion to all surfaces – Resin can cover concrete, old tiles and even wood floors, with a certain floor preparation
Waterproofing – Epoxy coating is waterproof and resists small splashes from dishes or major water damage.
Unique design – The uniform surface of the epoxy will give your kitchen a clean, aesthetic and modern look. This coating is available in a matte or glossy finish, depending on your preferences.
Durability – Epoxy is one of the most durable surfaces, with a lifespan of over 20 years.
Quick installation – Your new floor will be installed in a few days, allowing you to quickly resume your daily activities in the kitchen.
Basement and Lofts
The basement is a part of the house that has certain peculiarities, such as a strong presence of humidity. You must therefore take this into account when choosing the type of flooring to install in the basement since poor insulation in your basement floor can create an uncomfortable climate.
Your basement floor covering choice is the ideal time to reduce moisture. Unlike carpets, epoxy coated concrete floors do not retain ambient moisture, which can grow bacteria and mold. In addition to providing a clean and attractive finish, concrete basement floors are easy to clean. For long-lasting work, opt for a concrete basement floor!
Recently, there is a strong trend in the construction world: lofts. In every neighborhood, there is the transformation of a former factory, school, or church into condominiums. And so much the better. In this way, we preserve the building's heritage that creates the charm of our neighborhoods.
Fortunately, all these constructions have solid concrete floors that provide excellent soundproofing. Basements of homes can also offer a lot of potential to become beautiful, well-decorated family rooms where we receive friends.
Covering these surfaces with floating flooring, engineered wood or carpet is a mistake in our opinion. Before making such a decision, you should know that having concrete floors is an opportunity and that there are other solutions that are much more trendy such as clear epoxy or metallic epoxy finishes.
Bathroom Epoxy Floor:
Before undertaking a major project such as transforming your bathroom, have you considered all the options available to you for covering your floor? There are many coverings to avoid for the bathroom where the risk of stains, water infiltration, and premature wear and tear is high. So be judicious in your choice!
This type of covering is resistant to many types of dirt and stains and is easy to clean. It also has a high resistance to water infiltration, which makes it a #1 choice for wet areas where the risk of splashes is high, such as in the bathroom.
Bedroom Epoxy Floor:
Do you want to give a unique style to your room? Opt for a standard epoxy or metallic epoxy floor covering. Epoxy is a material that is becoming more and more popular in the heart of Canadian homes. It allows you to distinguish yourself by displaying a modern design while presenting several advantageous functional characteristics. By installing epoxy flooring in your room, you will give it an elegant look with its smooth and glossy finish.
Need Help With Your Floor? Contact B-Protek!
Our team has more than ten years of experience in coating floors. No matter the scale of your project, we are up to the challenge. We offer all of these epoxy flooring systems, as well as polyurea flake flooring, which are perfect for garage floors and exterior flooring.
Our floors are also 100% compliant with the national building code. We offer you unmatched customer service, unparalleled peace of mind, and flawless results. If you have any questions concerning an epoxy floor coatings project, do not hesitate to contact us! Our experts put their expertise at your service with great pleasure.
FAQ
WHAT ARE THE BENEFITS OF EPOXY FLOORING?
Epoxy flooring has several advantages. It is quick and easy to install. Thanks to regular routine maintenance, your floors will always stay as good as new. Epoxy concrete floors are sealed in a liquid-tight manner.
ARE EPOXY FLOORS WATERPROOF?
Epoxy coating is an effective system to protect porous concrete from splashes. An epoxy coating is waterproof and durable, resistant to liquids that would otherwise seep into cracks and other hazardous areas of the concrete floor below. Since the surface is smooth and homogeneous, epoxy makes it easier to wipe up puddles and other dirt that may occur.
WHAT ROOMS CAN YOU DO WITH EPOXY COATING?
Epoxy has long been recommended as a solution for garage flooring. But now we recommend polyurea with flakes, which is a floor covering much more adapted to the garage, and therefore much more durable. Epoxy is more suitable for the interior of the house, to dazzle your rooms. Not only is it possible, but epoxy can have amazing results in kitchens, basements, and much more.
HOW LONG DO EPOXY FLOORS LAST?
Epoxy floors are very resistant, they usually resist 30 years with regular residential traffic. The performance of the floor depends on the way you preserve the surface.
IS EPOXY FLOORING GOOD FOR HOMES?
Yes, Epoxy is good for your home. It's easy to maintain and to keep clean. It's also very durable and very safe. It gives your floor an awesome look.
ON WHAT SURFACES COULD YOU APPLY EPOXY ON?
An epoxy coating can provide a protective and aesthetic layer to any hard surface such as:
Metal;
Tile;
Concrete;
Plywood.
IS EPOXY FLOORING CHEAPER THAN TILE?
Overall, floor tiles will run you about $4 to $11 per square foot (with installation), while epoxy will cost you between $5 to $12  per square foot (with installation). Garage tiles average $2 to $4 per square foot, making the materials more expensive. However, the installation is less than $1 per square foot.
ARE EPOXY FLOORS WORTH IT?
Yes, epoxy floors are totally worth it. An epoxy floor can increase the value of your property, is easy to maintain, and gives your floor a unique and beautiful look. It's also popular because of its resistance to water and the fact that it's very durable.
HOW TO FIND EPOXY FLOOR COATINGS EXPERTS?
Do your research, look online for the most trustworthy companies. Read at the reviews, make sure the company you choose is fully insured and licensed.